Community
White Hat Events is a collection of individuals from the UK's Information Security Industry who get together to raise money for charity. The events each year include the White Hat Ball, Marathon, Golf, Cocktail Party and Rally.
The 2011 Carry-On themed White Hat Rally was fiercely fought over the weekend of 1 – 3 July, with teams from security consultancies, vendors, suppliers, and independent contractors all over the UK taking part, and raising money for and the NSPCC's Childline, with a total raised by Sunday topping £25,000. Across the sunniest 3 days this summer we travelled from Brighton to Blackpool, following clues, competing in challenges, suffering japes, sabotage and mechanical issues, and enjoying the hospitality of towns along the way, as well as getting to know a like-minded bunch of security professionals all trying to make a difference. I joined the Northern UK Security Group (NUKSG) team in Leeds on Thursday, and we drove the Yellow Peril (an ancient Dodge Caravan bought for £350, bright yellow with an interior entirely covered in red velour) down to Brighton, where we met the other teams for a pleasant social…quite late on, due to starter motor issues, traffic, and the Yellow Peril's lack of a top speed (among other issues)
Day one – we met up at Brighton beach, a motley collection of classic cars, sports cars, agricultural and emergency vehicles and bangers. The day involved a lovely journey across the South Downs, following clues and ending up in Cheltenham. Each team had GPS tracking apps to allow the organisers and families to see how we were doing.
At our first checkpoint stop the Pirates O' Pentest opened up the back of their ambulance to display a fully featured and functional cocktail bar – which went down very well at each stop for the next 3 days – raising extra money for charity.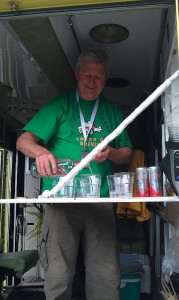 Lunch was hosted at Brooklands Museum, the birthplace of British motorsport and aviation, and included a speech by Diana Moran (the Green Goddess), who also led us in some mild aerobics, despite being in her 70's. I was delighted to sit on the famous banking I had heard about since my early childhood, poke around the classic cars and aircraft and play on the F1 simulator.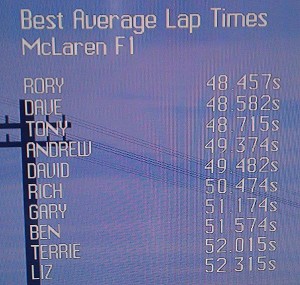 Due to a minor organisational hiccup, The StoryTeller restaurant in Cheltenham were not made aware of the party of 67 until a couple of hours before we arrived, but they coped amazingly well – getting us all seated and providing a lovely dinner. The Scavenger Hunt in Cheltenham attracted a few entrants, but we didn't find out the results until Sunday night.
Day two – saw us winding through the countryside up to the oldest brewery in the UK, the Three Tuns in Shropshire, for lunch, a tour of the brewery and tasting of some new brews.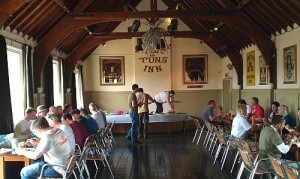 We also met the lovely Clare Marie – the hostess of Dr Sketchy's London art events. The afternoon drive then led us up to Buxton and the Palace Hotel for our evening stop. Once again we were provided with an excellent dinner, this time at the Railway, and a Carry On quiz.
Day three – a relatively short run, with some straightforward clues that got us to Blackpool, and the Big Blue hotel – which is where we were finally joined by 2 of our number we hadn't seen for the entire event…because they cycled the entire way!! Fancy dresses were out in force, and everyone had a great time on the rollercoasters and rides before dinner (can't believe I stayed on the Big One for 3 laps – it's 235 feet high, one of Europ's highest roller coasters and I'm terrified of heights!) and prizegiving at the White Tower.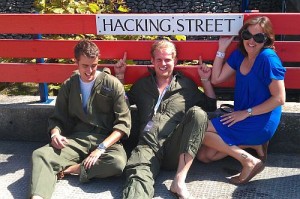 Team NUKSG did not win best dressed car, best fancy dress, or prize for quiz or scavenger hunt, however we did raise the most money so we were the overall winners and took home the star prize – a bottle of the Three Tun's Cleric's Cure each!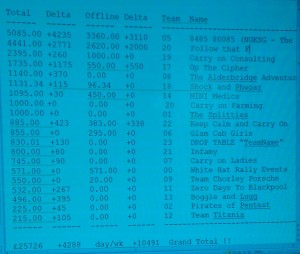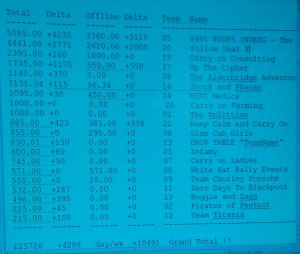 We are obviously keen to keep raising money so please visit our sponsorship page. The official picture page is here at Picasa – with folders of photos from each car, as well as the Marshalls.
Many thanks again to my sponsors:
Security Stackexchange – Robert and the team provided us with sponsorship and we grabbed a couple of Stackexchange logos to stick on the car, one on each side. This went down well with the technical security folks we were competing with.
Virgin Money – Virgin's banking department, and the providers of Virgin Money Giving – the only not-for-profit charity payments site.
Metaltech – my Rock band, preparing for new album launch party in August (@metltek and #burnyourplanet on Twitter)